Get involved
Get involved with AWB and make a profound difference in the lives of those affected by disasters, conflict, and social injustice. Your participation can aid in providing integrative health services such as acupuncture, massage therapy, and herbal medicine to the most vulnerable communities around the globe. By volunteering, donating, or spreading the word, you can help bring trauma-informed care to those who need it most. Join us today in our mission to support resilience and recovery in communities worldwide!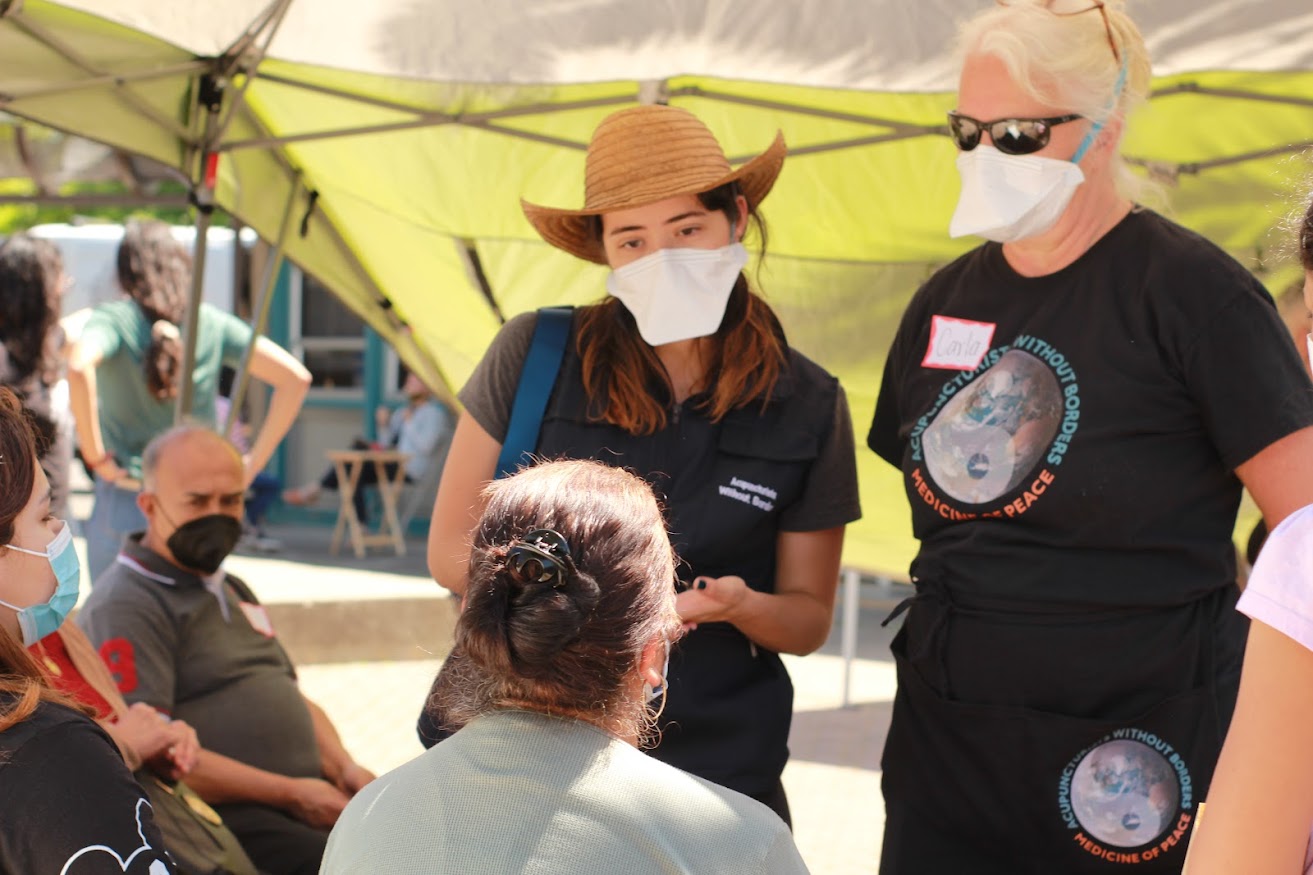 Donate online
Your contribution directly aids in disaster relief and recovery efforts, while also fostering resilience within communities that are most vulnerable to disasters, human conflict, environmental ruin, poverty, and social injustice.
Click here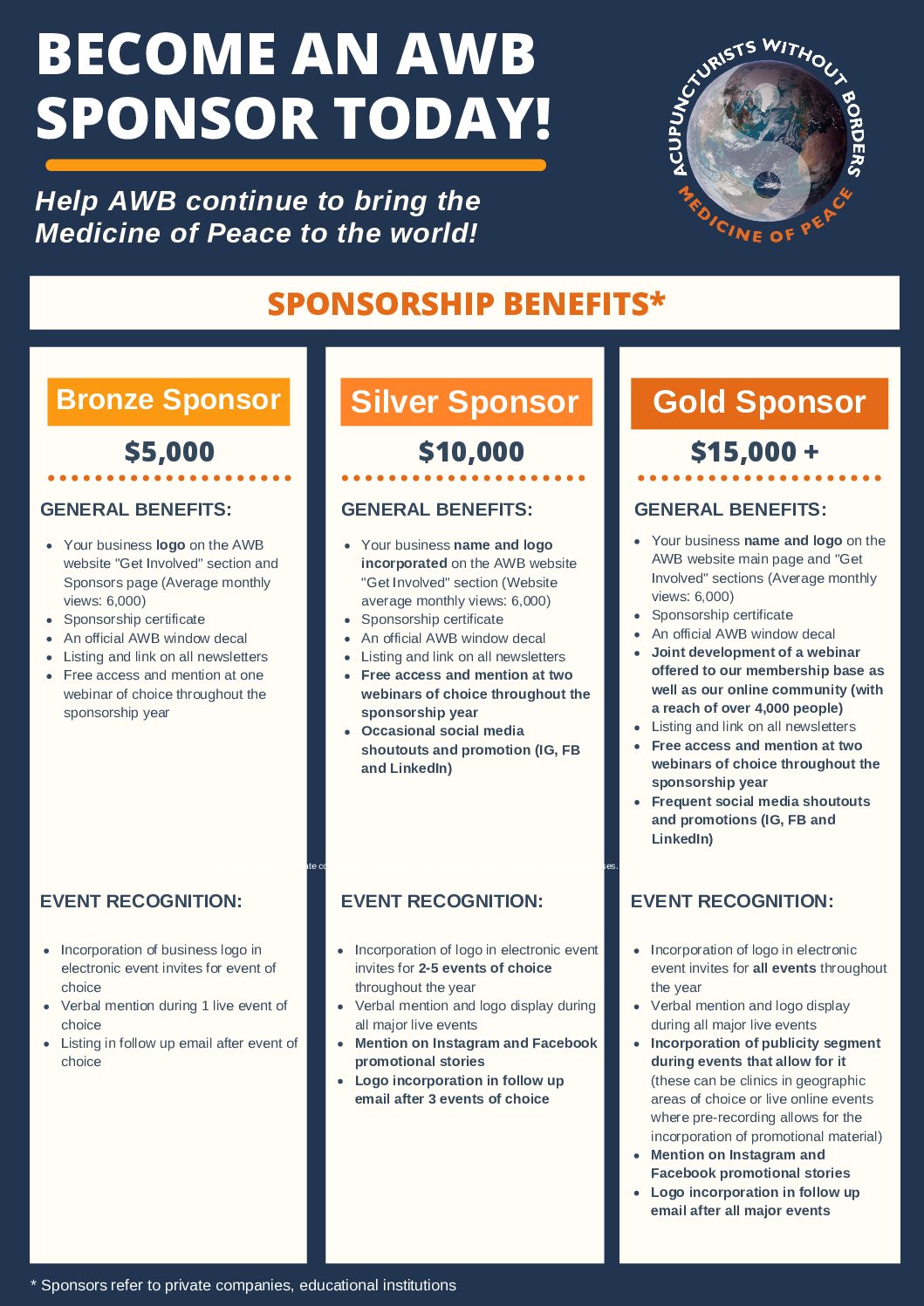 Become a sponsor
AWB does not work alone!
Our goal with sponsoring partners is to create mutually beneficial collaborations – helping your organization thrive and achieve its objectives – while together we create more capacity for healing trauma in the world.
Fundraise for AWB
There are several ways you can support trauma-informed care with Acupuncturists Without Borders. Here are a few suggestions!
Hold an AWB Fundraiser on Facebook:
Setting up Facebook fundraisers is a quick and easy process! You can set a monetary goal, share with your contacts, and conveniently thank everyone who contributes. The best part is that 100% of the funds raised go directly to AWB, meaning no admin or credit card fees! To get started, click here: https://www.facebook.com/fund/acuwithoutborders/
Start a GoFundMe Campaign for AWB:
GoFundMe campaigns are another excellent method to fundraise for AWB. It's straightforward to set up a campaign, share it on social media, and track everyone who has donated. To begin, visit https://www.gofundme.com/. You can search for us by our name, Acupuncturists Without Borders, or EIN: 54-2190889.
Host a Fundraising Party:
Why not throw a "Party with a Point" to help raise funds for AWB and grow the AWB community? We recommend starting your planning three months in advance. We're more than happy to provide advice and guidance, a detailed planning guide, PowerPoint presentations, marketing materials, and help with promotion.
If you're interested, please contact Christine Cronin at christine@acuwithoutborders.org for more information.
Other ways to give
Text to Donate
Donating by text is a quick and easy method. Simply text "giveawb" to 855-735-BIDR (2437) to get started! Acupuncturists Without Borders is a tax-exempt non-profit organization and your donations are tax-deductible.
Planned Giving
To include us in your estate plan, simply name Acupuncturists Without Borders as a beneficiary (AWB EIN: 54-2190889). We are very grateful for your consideration of this long-term support for AWB! Please contact Christine Cronin at christine@acuwithoutborders.org if you would like to discuss planned giving.
Stock Donation
Transferring stocks to Acupuncturists Without Borders can be accomplished in two easy steps:
Step 1: Contact Your Broker
Initiate a direct electronic transfer of your stock certificates to Acupuncturists Without Borders' account. Please provide your stockbroker or brokerage with the following details:
DTC#: 0188

Account Name: Acupuncturists Without Borders

Account Number: 491437779

AWB Tax ID Number: 54-2190889
To assist you with the transfer, TD Ameritrade Service & Trading Desk operates a 24-hour service. You can contact them via:
Phone: (800)-669-3900 Opt 3

Fax: (866) 468-6268
Step 2: Notify Acupuncturists Without Borders
After completing the transfer, please let us know of your contribution so we can appropriately acknowledge your generous gift. When notifying us, please include the following details in your email:
Your Full Name

Your Address

Name of the Stock being donated

Number of Shares being donated
Please send this information to christine@acuwithoutborders.org to confirm your donation.
Mail Donation via Check
Donations by check can be made to Acupuncturists Without Borders and mailed to:
Acupuncturists Without Borders
3439 NE Sandy Blvd #304
Portland, OR 97232
If you would like to designate your donation to a specific program, or person, please note it in the memo line of your check.
Supply Donations
Before sending any supply donations, it is crucial to contact us before sending any supply donation. Our mailing address is a PO Box, and packages may be returned. Please reach out to us at 503-477-9731 or email administrator@acuwithoutborders.org.
Our current Wishlist:
Airline tickets or miles

A location to facilitate productive staff and board development retreats
Consistently Needed Supplies:
.5 cun ear acupuncture needles (NOT EXPIRED)
Biohazard containers
Alcohol swabs, rubber gloves, and cotton balls
Tackle boxes for mobile clinics
Office supplies including printer cartridges, paper, etc. (For specifics, please check with our office administrator at 503-477-9731)
Chinese herbal medicine (please contact Carla Cassler carla@acuwithoutborders.org before shipping)
Note: When sending a donation of supplies, please include in the box a note stating the financial value of the items, a list of the contents, and your contact information.